Acrobat X Pro is offering many enhanced features. Sending PDF form via E-mail is one of them. You can distribute the forms and get them into the hands of the people that you would like to fill the form out and can have the data back when they fill the form. Acrobat gives you facility to distribute forms and get the data back into the way that makes sense for you.
Follow These Steps.
1- Click on File Menu and Send File
2- Select option Send file by Application or Web Email Service.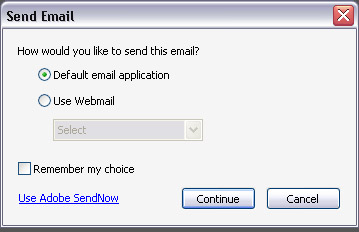 3- Click on Continue,
This is really a very easy way to send PDF form or documents to any person.
Select a PDF file converted into form and could be delivered as a form. Click on Highlight Existing Fields and it will highlight all, now you can fill form on your computer system. It can be filled by someone's hand directly and for that click on Tools pane. Now click on Forms panel and select the Distribute option, you will prompt for how to collect response from your recipients. Select the Manually collect responses in my email inbox option and click Next button. Now you will prompt to choose the way to distribute your form. If you want to send it automatically then choose the option Send it automatically using Adobe Acrobat and click on Next.
Now add e-mail addresses of people to whom you want to send the form and click on Send. It is very quick and easy sending process so you don't need now to attach files in your email. Acrobat will create two versions of form; distributed and responses. If you open distributed version you will that how form looks in recipient view which is same as original form but having the submit form button on its top right corner to give response. Add information and click on submit form. You will notify that your response has been sent.
These responses will receive to form distributor and you can simply view this by clicking on the message. You will prompt to add the file in response file that you have been created for responses or to create new response file. Select the option and click on OK. You can now export this information to some useful format such as in spreadsheets using Export all option.